Excellent Mattress Cleaning And the Same Day Service In Adelaide
One of the main parameters of physical and mental health is healthy sleep and to attain this the same-day mattress cleaning Adelaide service is a must. In fact, in the absence of regular mattress cleaning, your mattress becomes the breeding ground of not just mould but also allergens. However, you can also avail our mattress stain removal expert help if your mattress needs one. Moreover, Mattress Steam Cleaning Adelaide is one of our best specialisations.
With Professional Mattress Cleaning Adelaide experts like us, your mattress restores to its healthy and former glory. Also, we are an ever-ready and efficient team that has a good experience in mattress odour removal with ease. We are also open to offering obligation-free advice and free quotes on a single call from our Adelaide clients. The mattress cleaners we dispatch are professional and don't have any onsite supervision. So, you can stay off-site if you would like to. Call on (08) 7228 0253 to book us right away!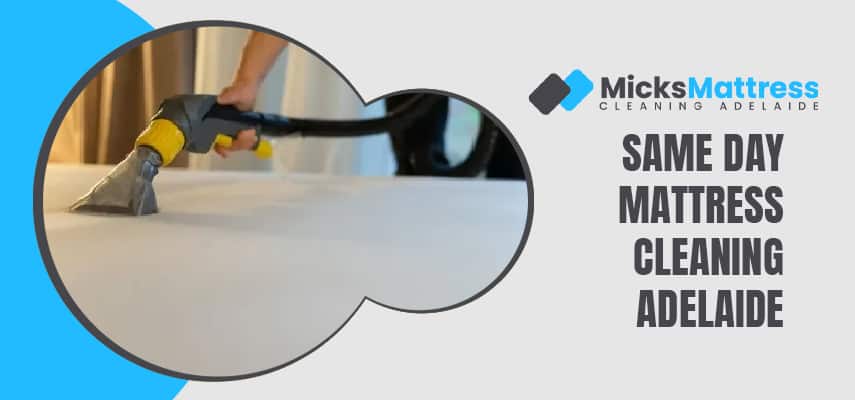 We Also Offer Mattress Cleaning Services in Adelaide:
We Do Not Leave Any Step: Get Better Same Day Mattress Cleaning With Us
Did you set your mind to getting a professional same-day mattress cleaning Adelaide program from our company? Then we are all set to arrive at your Adelaide property and complete the task you booked us for. From surface dirt and stain removal to deep cleaning and anti-allergen treatment, our mattress cleaning program covers everything.
Mattress Inspection: We start the same-day mattress cleaning Adelaide process with the step called mattress inspection. During this step itself, we explain everything related to mattress cleaning service to the client.
Pre-Vacuuming: To remove loose dust and dirt from the mattress, we do pre-vacuuming which also removes pet dander. Here, the vacuum cleaners we use have HEPA filters and belong to industrial-grade equipment.
Treatment Of Body Shedding: Then we use safe and green mattress cleaning agents to dissolve all the body shedding like oils and sweat. With this step, even grime gets removed without excess moisture.
Detection & Treatment For Contaminants: Using the latest technology, we detect the contaminants of your mattress like urine, pee, vomit, etc. Then, with the help of non-toxic and enzyme-based cleaners, we promptly remove these contaminants.
Intensive Stain Removal: To remove stains in as much less time as possible, we apply necessary spot removers. After that, we let the spot removers penetrate the stains and break the bonds in them.
Anti-Allergen Treatment: Also, our team treat your mattress for bed bugs, dust mites and other allergens by executing the anti-allergen treatment. Because this treatment kills even the toxic excrements present in the deeper layer of your mattress.
Quick Drying: Before leaving your Adelaide property, we do not forget to re-check your mattress. If it did not dry before our leaving time, then we do a quick drying step with dehumidifiers, fans, air movers or air dryers.
Accidents On Mattress: When To Call Experts As Soon As Possible
Mattresses accidentally become victims of many stains, mould, odours, germs and allergens. And cleaning and removing all of these on your own is a hard task if you want to clean the mattress all your own. This is when you have to contact a professional mattress cleaning company like ours in Adelaide. Because we can restore your mattress to its original shape by doing dust mites removal, improving the indoor air quality, etc. Moreover, at a budget-friendly mattress cleaning Adelaide price, you can tackle accidents happening to your mattress. So, if the mattress at your residential or commercial property faces the below accidents, immediately contact us and hire our cleaners.
Pet urine odours from the mattress
Bedwetting by your kids
Stains from vomiting on a mattress
Patches of mould varying in different colours
Irremovable coffee and tea spills
After a bloody accident
Make-up stains on the mattress
Why Hire Us For The Same Day Mattress Cleaning Service In Adelaide?
You only get the best benefits by hiring our same day mattress cleaning Adelaide team from a company like ours. From mattress cleaning methods to cleaning solutions and tools, everything is bought from well-known brands in the industry. A list of other benefits of hiring our company's mattress cleaners is here.
Everyday Service Appointments: With flexible professionals at our front desk, we take appointments every day without missing them. We also take more than one service appointment at a time for any client in Adelaide.
Efficient Client-Friendly Support: We have deep-rooted beliefs in achieving client satisfaction without fail and do the same with efficient experts. Thus, we do not compromise on the quality of same day mattress cleaning Adelaide methods with the clients.
Regional Experts From Adelaide: To let your fear of being around unknown experts, we dispatch our regional experts from Adelaide. Our regional experts make you feel comfortable and respond to all your enquiries regarding our mattress cleaning service.
Accredited Company: As an accredited company of Adelaide, we neither compromise nor adjust with just any equipment. Hence, the equipment we use belongs to the latest, on-trend and up-to-date technology.
Affordable Pricing: You can avail of the best services from excellent cleaners at affordable mattress cleaning Adelaide prices. We give the right mattress cleaning treatment after a thorough inspection and mattress and state the charges later.
Chemical-Free Agents: All our cleaning agents are proven to be chemical-free that are specially manufactured to keep human health safe. Whether yours is a king-size, queen-size double-size or single-size bed, we clean all of them with chemical-free agents.
Same Day Mattress Cleaning Adelaide
Call us at (08) 7228 0253 Same Day Mattress Cleaning Adelaide
Location: Adelaide, SA, 5000, Australia